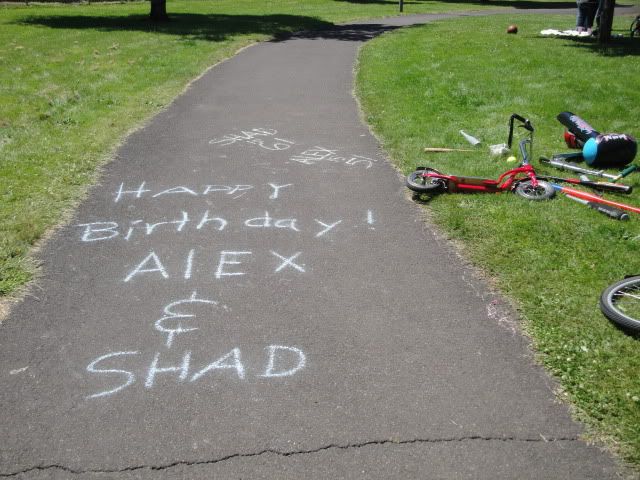 I apologize in advance for any misspellings, gramatical errors or sentences that just don't make sense. I am currently typing this while listening to Kidz Bop 19, a remote control car and Hot Wheels. Guess nobody ever said that having children was a quiet affair, right?
Today we descended upon the local park with a folding table, many chairs (two of which broke when guests tried to sit down...Oops!), bikes, scooters, balls (both cake and rubber), food and lots of children. We were celebrating Alex's 5th birthday and Shad's 6th birthday. It was super fun and completely exhausting.
Thanks to 19 kids, 46 cake pops and who knows how many battery-required toys strewn all over my house, I am just too pooped to write much. So please, just enjoy a few pictures:
This is how Alex prefers to ride his bike (Yes, really):
We put ice cream in these little heart shaped chocolate cups that Tricia found at New Seasons. She went searching after I attempted to make chocolate cups at home. (Note: if you attempt this, make sure the melted chocolate has cooled down. A LOT. Trust me.) Honestly, the ones she found were way cuter than I could have made, so perhaps it all worked out.*
*Grandma Marcia, who cleaned the chocolate off the walls, may disagree.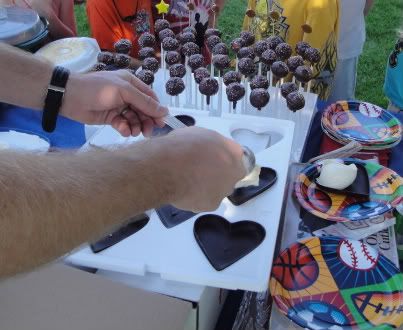 This pinata turned out to be styled after a tank. The good news is that every party-goer got to whack at it. The bad news is that it took Dusty beating it to actually get the thing open.
And finally, here is little Alex trying SO hard to break open the candy box that he came VERY close to falling over backwards...many times!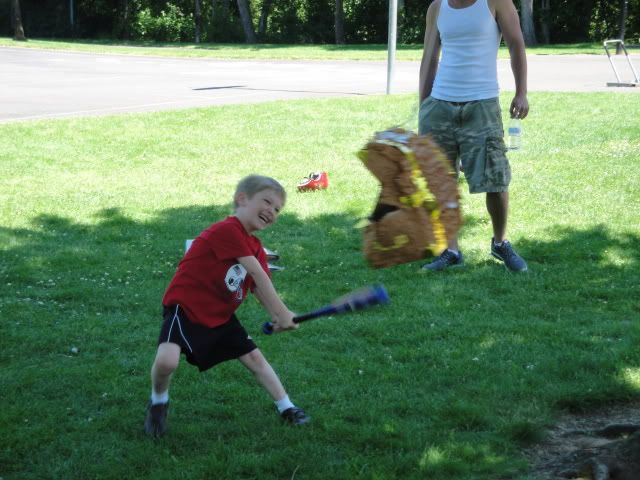 I really appreciate everyone who came out today. My little babies are growing up, and growing up well. It means so much to me to see how many people love and support them!